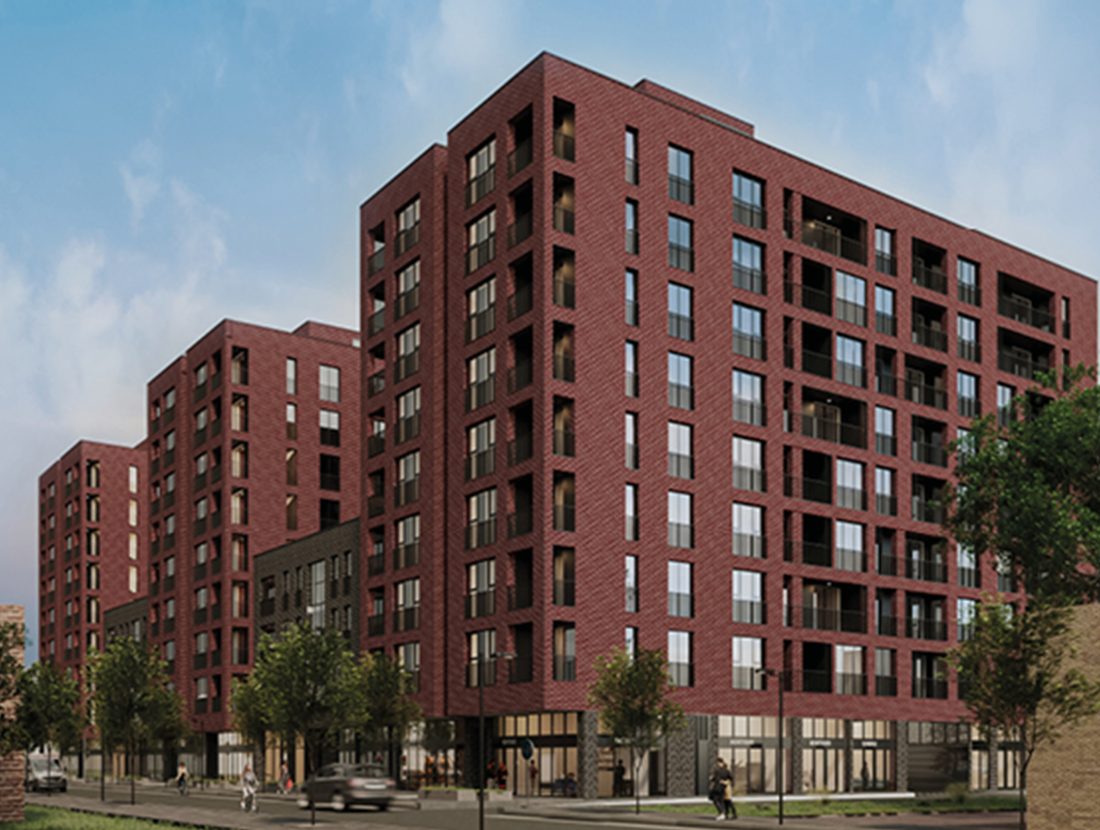 EN
''E'' RESIDENCE is an object located on "Zenel Bastari" street. The building has a mixed service and residential function along its nine floors. Housing starts from the first floor to the eighth floor, while the service is located on the ground floor. In volumetric, the object is thought of as a composition of five smaller objects, among which three are located in the vertical direction in the square and the other two in the horizontal direction. This placement makes it possible to create squares and recreational spaces at the back of the building. In the northern and southern facades, this volumetric movement is very legible because, in addition to the height of the volumes, we also find the use of materials with different colors. In order to create a shelter on the front facade of the building, Is been created a two-meter extension on the ground floor.
The facade of the building is proposed to be covered with red and black bricks. Through the color of the materials, the volumes will be emphasized even more from each other. All the facades are illuminated with window openings of maximum height and with transparent glass. The apartments all have access to the loggias, which are equipped with black metal railings. This rail is used wherever there are openable windows as a safety element. The ground floor, having a service function, will be treated with transparent glass windows.
AL
REZIDENCA ''E'' është një objekt I pozicionuar në rrugën "Zenel Bastari". Objekti ka një funksion të përzier shërbimi dhe banimi përgjatë nëntë kateve të tij. Banimi fillon në katin e parë deri në katin e tetë, ndërsa shërbimi vendoset në katin përdhe . Në volumetri objekti është menduar si një kompozim i pesë objekteve më të vogla ndër të cilat tre janë të vendosur në drejtimin vertikal në shesh dhe dy të tjerë në drejtimin horizontal. Kjo vendosje bën të mundur krijimin e shesheve dhe hapsirave rekreative në pjesën e pasme të objektit. Në fasadën veriore dhe jugore kjo lëvizje volumetrike është tepër e lexueshme sepse përvec lartësisë së volumeve gjejmë dhe përdorimin e materialeve me ngjyra të ndryshme. Për të krijuar një strehë në fasadën e përparme të objektit është krijuar një tërheqje e katit përdhe me dy metër. Fasada e objektit është propozuar veshje tulle të kuqe dhe të zezë. Nëpërmjet ngjyrës së materialeve do të theksohen edhe më shumë
volumet nga njëri- tjetri.
Të gjitha fasadat janë të ndricuara me hapje vetratash me lartësi maksimale dhe me xham transparent. Apartamentet kanë të gjithë dalje në llozha të cilat janë të pajisura me korimano metalike ngjyrë të zezë. Kjo korimano përdoret kudo
ku ka vetrata të hapshme si element sigurie. Kati përdhe duke pasur funskion shërbimin do të trajtohet I gjithi me vetrata xhami transparente.